Service Department Hours

    M - F: 7:00 am to 6:00 pm
    Saturday: 8:00 am to 5:00 pm
    Sunday: Closed

Tires Make a Difference!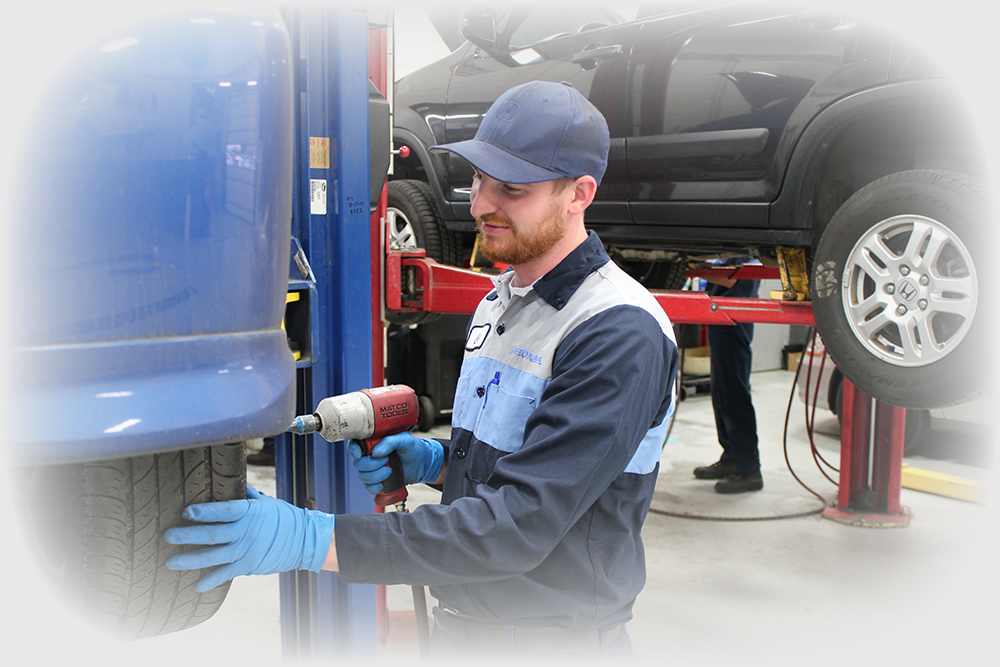 So much depends on your tires. That's why it's so important to select the right ones and it's equally crucial to properly maintain them and replace them at the correct time. Did you know that at 60 MPH the amount of tire that actually touches the road on a 3,000 lb vehicle is less than 15 square inches? That's about the same size as the palm of your hand.
It's reassuring to know Larry H. Miller Honda of Boise can give you the right advice to ensure your tires deliver maximum performance and safety. We stock the Honda tires you need. Moreover, we can help you find the tire that's right for you, no matter what vehicle you drive. Stop by the Honda Service Department or Honda Parts Department at Larry H. Miller Honda serving Boise, Meridian, Nampa, Caldwell and the greater Treasure Valley.
---
Alignment:

Inspect your tires frequently. Look for stones, glass, metal or other objects wedged in the tread. These can work themselves deeper into the tire and cause air loss. If one tire continually needs more air, have it checked. Damage to the tire, wheel or valve may be the problem. Uneven wear patterns may be caused by improper inflation pressure, misalignment, improper balance or suspension neglect. If left uncorrected, further tire damage will occur. Misalignment of front or rear wheels, improperly operating brakes or shocks, bent wheels, worn bushings, and other problems cause uneven and rapid tread-wear and should be corrected by Larry Miller Honda technicians. Have these items checked periodically as specified by the Owner's Manual or if you detect signs of trouble.


---
Rotation and Balance:
The reason for rotating your tires is to achieve a more uniform wear for all the tires on your vehicle. Before rotating, refer to your vehicle's  Owner's Manual for rotation recommendations. If no rotation period is specified, tires should be rotated every 6,000 miles. Also consult the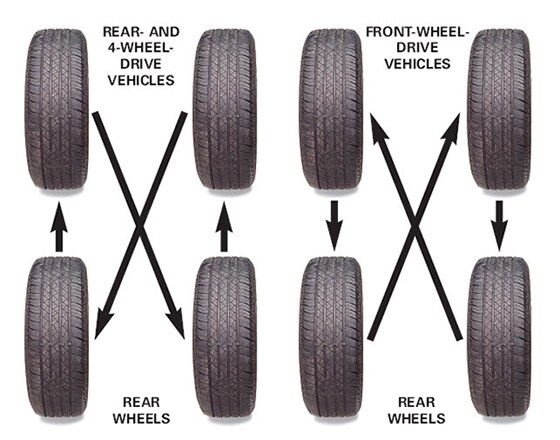 Owner's Manual for the appropriate pattern for your vehicle. It's very importat to have your tires properly balanced. An unbalanced wheel and tire assembly may create an annoying vibration when you drive on a smooth road and can result in irregular tread-wear.
Be sure to check tire pressure when tires are cold. A tire loses one to two pounds of air per month in cool weather and more in warm weather. Under inflation is the main cause of tire failure. At Larry H. Miller Honda of Boise, the Service Department is happy to help you get the most out of not only your new or used Honda but the tires you drive on everyday. Bring your Honda or other vehicle in and we can help you find the appropriate set of tires for your driving needs in Boise or the Greater Treasure Valley. Questions about your tires, what OEM Honda tires you have or what OEM Honda tires you need? Larry H. Miller Honda can help. Stop by 7710 Gratz Dr, Boise, Idaho, 83709 and Larry Miller Honda will do the rest.
---
Have a Question About Your Tires?