How do I build or re-establish my credit?
The only way to build your credit or re-establish your tarnished credit is to obtain credit and keep it in good standing. This means you need to apply for and obtain a loan, make payments diligently and on time, and lastly, be patient. This is how you establish your credit worthiness to lenders so that you can obtain favorable interest rates on your future loans.

Why should I take out a bad credit auto loan vs. using a credit card to build my credit?
In some cases you may already have a decent credit score, but still can't secure a good interest rate on an auto loan. This is because it all comes down to the type of credit in your credit history, revolving vs installment credit.

Revolving credit includes items such as credit cards, this mean if you only make your minimum payment each month the remaining balance is able to be carried over (or revolve) onto your next months balance while charging you interest on that amount for being able to give you that ability.

Installment credit includes items such as auto loans and home mortgages. With installment credit you sign a contract stating you will pay back the amount borrowed, plus interest, for a set amount each month for a fixed term (for example, $350 per month for 36 months). Generally, installment loans are much higher and have higher monthly payments. They are also less flexible and require the buyer to display greater diligence when paying off the balance. This makes installment credit a much stronger form of credit. 

To put it another way, while a good payment history with a credit card will help your credit score, it is not the strongest type of credit to bring to the table if you're applying for a car loan.

For this reason, many applicants with decent credit scores can still be turned down for a car loan if they've never had a car loan before, or if it turns out that that one of their previous car loans had a spotty payment history. In both these cases, the applicants might have to first prove themselves by way of a car loan with a solid payment history through another lender.

Am I going to be stuck with this high interest rate on my bad credit auto loan throughout the full term of my loan?
As you keep your auto loan in good standing and keep making your payments on time, your credit score will start to raise (as long as you are being diligent with all your lines of credit) you can refinance your auto loan as your credit score improves to obtain a more favorable interest rate.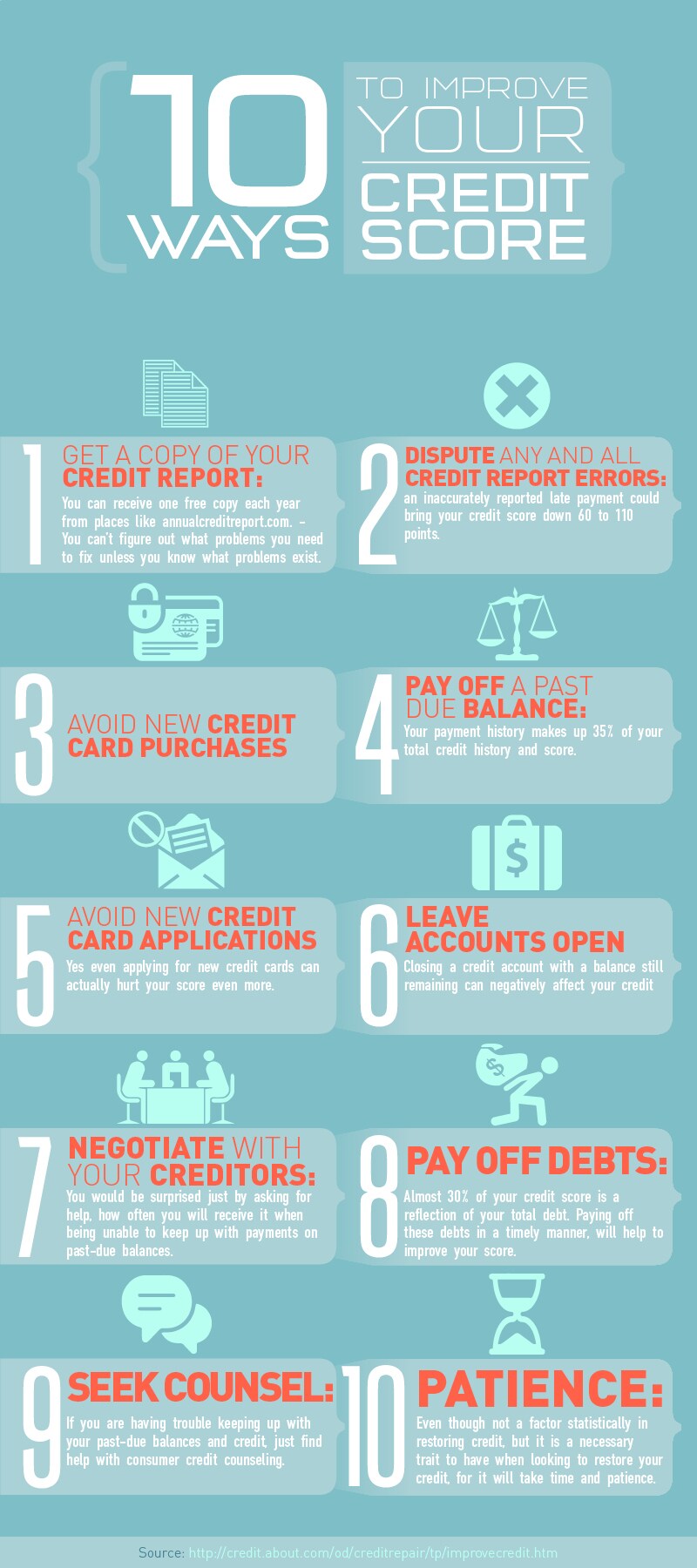 1. GET A COPY OF YOUR CREDIT REPORT:
You can receive a free annual copy of your credit report as places such as Annual Credit Report . You can't figure out what problems you may have or what to fix unless you know what problems exist.
2. DISPUTE ANY AND ALL CREDIT REPORT ERRORS:
An inaccurate reported late payment could potentially bring your credit score down 60 to 110 points.
3. AVOID NEW CREDIT CARD PURCHASES


4. PAY OFF A PAST DUE BALANCE:
Your payment history makes up 35% of your total credit history and score.
5. AVOID NEW CREDIT CARD APPLICATIONS:
Yes even applying for new credit cards can hurt your credit score.
6. LEAVE ACCOUNTS OPEN:
Closing a credit account with a balance still remaining can negatively affect your credit. The length of your credit history also makes up 15% of your credit score, so closing older accounts can adversely shorten your credit history. By closing an account, you will also lose the credit that came along with it, which can negatively impact your debt-to-limit ratio.
7. NEGOTIATE WITH YOUR CREDITORS:
You would be surprised just by asking for help, how often you will receive it when being unable to keep up with payments on past-due balances.
8. PAY OFF DEBTS:
Almost 30% of your credit score is a reflection of your total debt. Paying off these in a timely manner will help to improve your score.
9. SEEK COUNSEL:
If you are having trouble keeping up with your past-due balances and credit, just find help with consumer credit counseling.
10. PATIENCE:
Restoring your credit doesn't happen overnight, it takes time and patience.
---
Idaho Auto Credit
7710 West Gratz Drive
,
Boise
,
ID
83709
|
(866) 744-8949